A delightful cliff top walk through lush vegetation and with fine views. It is possible to walk just one way and return by public transport or taxi.
2 hours 45', 250m of ascent
ACCESS: Park near the port at Pasaia.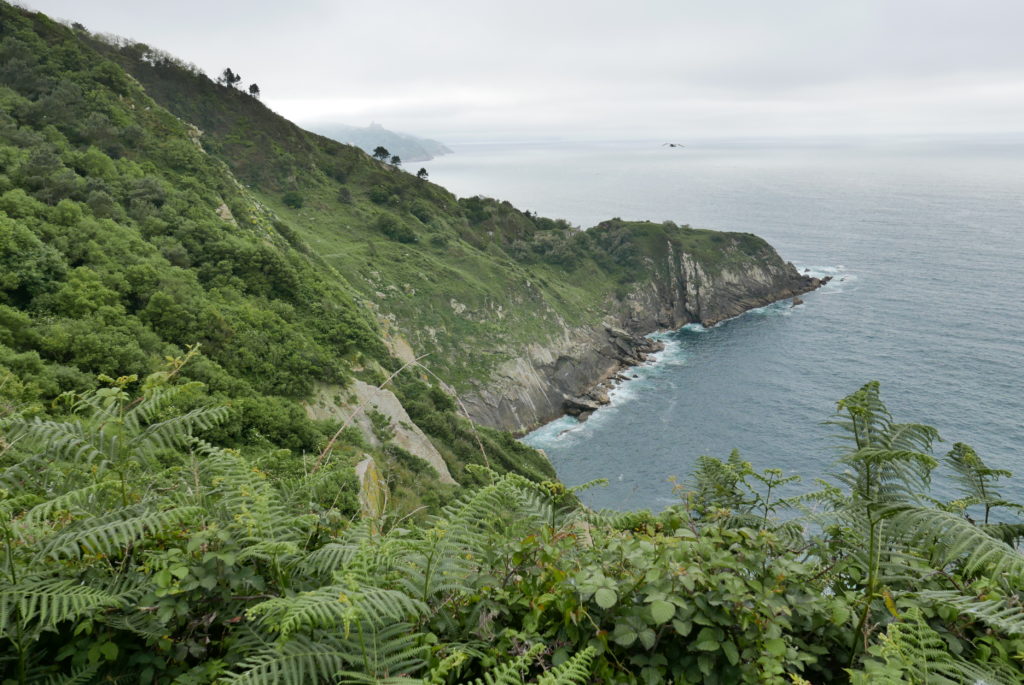 WALK
Walk towards the narrow entrance of the harbour. After 10' pass the ferry going across the river to Pasajes, a nice place to have lunch. Continue along the river passing the Albaola ship-building museum before reaching the lighthouse at the entrance of the estuary.
 25' Steps – Climb the steps steeply up the cliff up to a road. Turn right (N) on the road leading to a turreted lighthouse on a promontory.
 50' Lighthouse – Just before the lighthouse turn left onto the coastal path near a panel about the geology of the sandstone formations on the coast. Follow the red/white waymarks of the GR121 (tour of Guipizkoa) which you follow today. (The yellow waymarks indicate the Way of St James northern route.)
 1 hr, Water source and aqueduct, known as the 'fuente del Ingles' after the English troops who were stationed here during the siege of San Sebastian in 1813. The aqueducts were used to supply San Sebastian with drinking water.
 1hr 20' – Stay right at a junction where the Way of St James goes left. Pass another water source and then cross a road.
 2hrs, Viewpoint – The path zigzags up above the highest section of cliffs (177m)
 2hrs, 15' – Join a track, then descend through woods with views over the city. Turn right onto a concrete path and then steps. At a road turn right and go down towards the beach (playa de Gros). Follow the sea front and cross the river on a bridge.
 2hrs, 45' San Sebastian
 If starting the walk from San Sebastian you need to go to playa de Gros and then turn right up 'Zemoriya' street.