A long whaleback ridge with views of the ocean and the bay of Txingudi.
2 hours 30', 400m ascent
 ACCESS
Start at the monastery of Guadeloupe (192m, 0595510 – 4802211), signposted from the roundabout outside the airport at Hondarribia.
 
WALK
Head WSW up the concrete path following the red and white of the GR121 (Tour of Guipizkoa). After 5' climb steeply SW up the ridge, through a gate and up to a ruined tower.
30' Tower dating from the last Carlist war (1872-76) 380m, survey marker. Continue along the crest of the ridge past two dolmens and a standing stone to a second tower.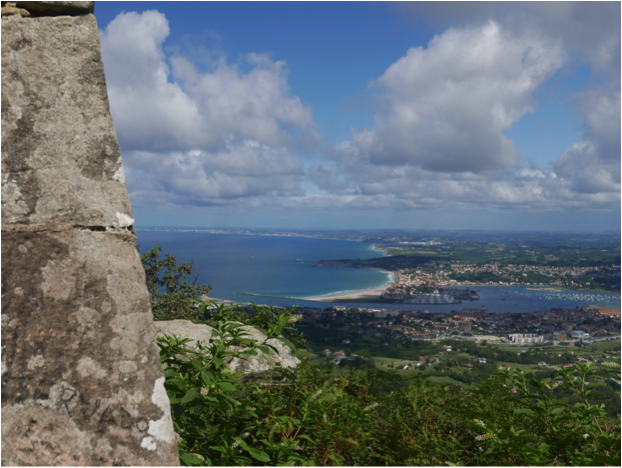 60' Carlist tower, 412m, car park with panoramic viewpoint. Go through a style and up the ridge towards the summit.
90' Jaizkibel 547m summit with antennae. Views along coast W to San Sebastian and beyond. Return by the same route. As you approach the monastery notice the impressive Guadeloupe Fort just beyond.
2hrs, 30' Monastery of Guadeloupe.
The Carlist wars were a series of civil wars that took place in Spain in the 19th century pitting different royalists against liberals and later republicans.