The Basque country comprises 7 provinces, 4 in Spain and 3 in France. The walks in this book are in the northern part of this mountainous region, and many are near or on the international frontier. Most walks are in the mountains though there are a few coastal walks. They tend to be between 3 and 5 hours long and have less than 1000m of ascent. There is a rich tradition of walking in the Basque country, with the long distance Pyrenean routes GR10, GR11 and Pyrenean Haute Route crossing the region, as well as the Way of St James' French and Northern routes.
When to go
The lower mountains near the coast are accessible all year round. When snowfalls occur they usually clear within a few days. Further inland, from Iparla east, the snow stays longer. On hot days in the summer, an early start allows the walker to enjoy the cooler breeze on the ridges. You can walk all year round.
Equipment
Many of the routes listed involve walking in places that are not much frequented so parties should come prepared.
Bring a map and a compass or GPS, waterproof clothing and a litre of water per person. The Basque Country is oceanic as well as mountainous and sudden changes of weather do occur. The warm weather brought by the southern wind will often be followed by a period of instability. Water can usually be found but there is grazing by horses and sheep on most mountains and water should be sterilised if not from a spring.
History
The region is very rich in evidence of prehistoric human settlement. Walkers will find large numbers of iron age stone circles, as well as dolmens and menhirs. Most were constructed in the first millennium BC. More modern military defences dating from the Napoleonic, Carlist or World wars are also to be seen.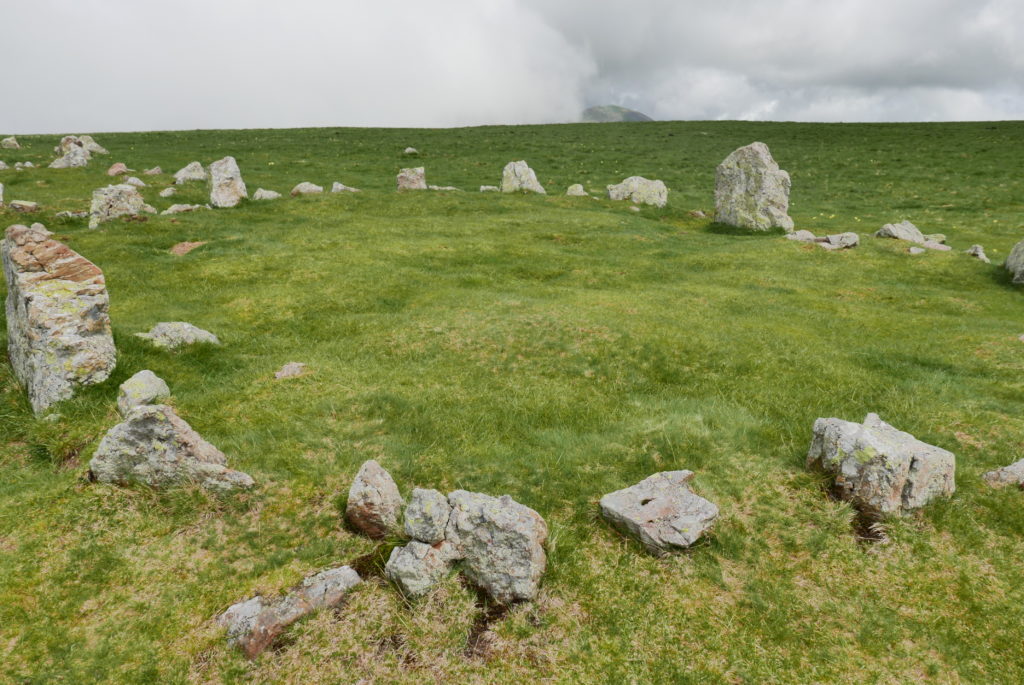 Wildlife
An ancient race of pony, the Pottok, lives in semi-liberty on the mountains. The Basque mountains are home to large numbers of different birds or prey, especially vultures which you are certain to see. In the autumn the area is part of an important bird migration route from Northern Europe to Africa. Walkers should keep an eye out for snakes.
Safety
In France and Spain the emergency mountain rescue number is 112.
Maps
Nearly all walks are covered by the two IGN 1/50,000 maps:
Pays Basque ouest; Pays Basque est
The corresponding IGN 1/25,000 maps are also useful:
Hendaye/St-Jean-De-Luz; Cambo-Les-Bains;
Saint-Jean-Pied-De-Port; Forêt d'Iraty Pic d'Orhy
GPS Maps
TOPO France PRO – Montagne
TOPO Alpina Espana – Pirineo Aragones y Navarro
Spelling
Many of the Basque place names used in this guide can be spelt differently in French and Spanish maps and on signposts. This guide uses the spelling of the IGN map series.
Navigation
Many of the walks have waymarks.
 Glossary
Bergerie – a building in high country used by pastoralists
Col – a low point on a ridge
Poudding – a rock form made up of sand and pebbles
Venta – a shop or bar on the Spanish side of the border
Cromlech – used in France and Spain to mean stone circle
Dolmen – burial chamber
Menhir – standing stone
Fronton – a place to play Pelota, usually in the centre of the village
Pelota – Basque ball game