Up through woods to the impressive frontier ridge of the Crêtes d'Iparla.
4 hours 45', 800m of ascent
 ACCESS: Turn right off the road from Cambo to Saint-Étienne-de-Baïgorry to the hamlet of Urdos. Park in the centre, near a large stone residence (once a hunting lodge).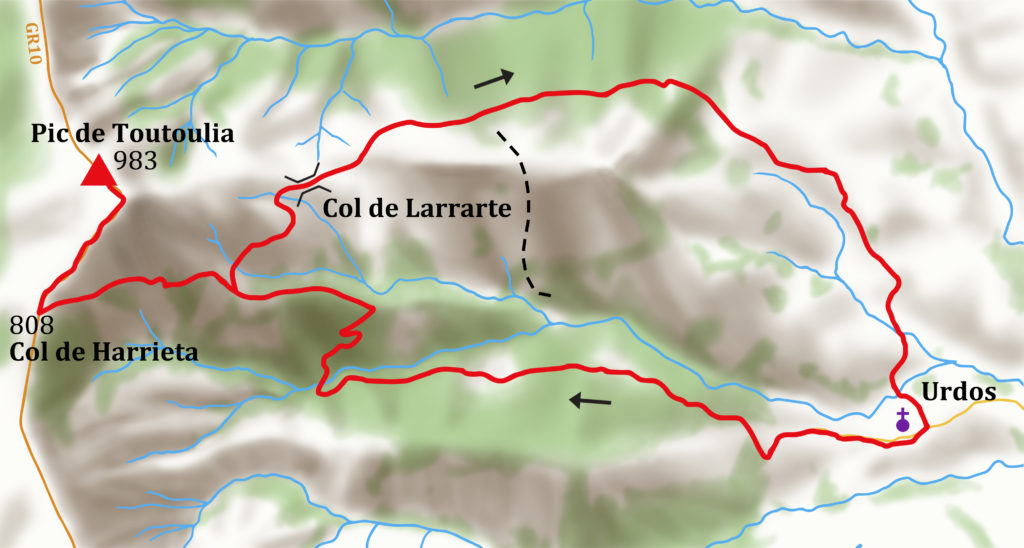 WALK
Take the track to the right of the residence, signed towards the Col de Larrarte. Follow the yellow marks west up the large track that climbs the wooded Urdos valley, with the river below to your right. Stay right at a junction after 20' when the gradient eases and again after 30' just before a bergerie.
40' Cross a stream; the track then climbs onto the crest of a ridge.
60' Bergerie Sarrasare, junction with signpost, pointing towards the col de Larrarte that you will use for the descent. Continue climbing past the bergerie through mature beech woods, to the Col de Harrieta.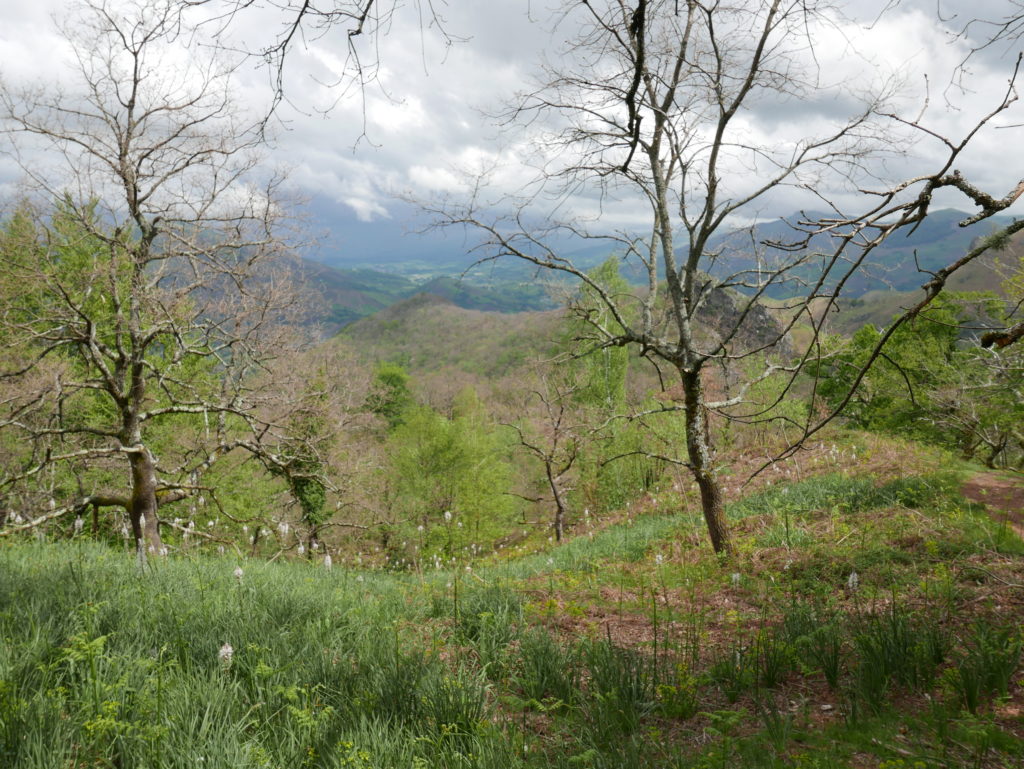 1hr 30' Col de Harrieta 808m signpost. Follow the red/white marks of the GR10 N to the summit.
2hrs, 5' Toutoulia, 983m 0631463 4786016, marked by feeble cairn. Views along the crêtes. Return the way you came to the bergerie and then turn left to the Col de Zarrarte.
3hrs, 5'' Col de Zarrarte – Continue E on the obvious track, with great views of the Crêtes d'Iparla, past a couple of ruins and descending steadily.
3hrs, 45' Signpost 'Urdos' – The track turns to the left. Leave the track and follow the footpath E, above a green valley, using the yellow marks.
4hrs, 10' At an intersection, by a bergerie, turn left and walk towards the village. Briefly join a road and then turn right by some barns onto a footpath (signpost). Cross a junction, then two streams before climbing up to Urdos.
4hrs, 45' Urdos.